Jari-Matti Latvala third mistake in four rallies in Portugal cost him another likely win and left him 38 points behind championship leader Sebastien Loeb and 34 points down on his Ford number two Petter Solberg.
Latvala spoke to AUTOSPORT about his run of accidents and how he can try and rescue his World Rally Championship season.
Q. Do you think you should still be the number one driver in the team?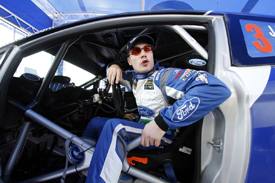 Jari-Matti Latvala: We will see. OK at the moment, it doesn't look good and Petter is in a better position than I am, but we keep going rally-by-rally. At the moment, we keep going as the positions are and then see. If, at the mid-point in the year, if it looks like I don't have a chance then I'll start to support Petter, like I did last year with Mikko [Hirvonen], but I think it's still too early for that. We keep going as it is at the moment.
Q. How do you go forward from here?
JML: I need to get the relaxed feeling. On the final day in Portugal, I got the feeling for the driving again and this is all I can do. For sure, the area I need to pay attention, and my area of weakness this year, is in hitting too many rocks. I need to work on not going into the corners so much, not cutting the corners so much. But these rocks are not visible in the recce.
Q. How does that happen?
JML: The one in Mexico came with the spectator, the one in Sweden came after the other drivers had been taking the snowbank out and it exposed this rock and then here this rock was brought down by the rain.
Q. This one wasn't on the recce either?
JML: No, we checked from the on-board [camera] during the recce. When it rained heavily the rock came down from the bank. It was like a little edge you could cut and take the line and that was where the rock was.
Q. And your pacenote for that corner was to cut?
JML: Yes it was. And when we did cut the corner, we found the rock was there.
Q. So, are you unlucky?
JML: What is bad luck and what is good luck? The thing is, I need to be able to react quicker somehow for this kind of thing, this surprising circumstance.
Q. That's tough though, when you've committed the car to a corner...
JML: It is. But I have to try to be a little bit away and not go so much into the corners.
Q. Are you surprised team boss Malcolm Wilson keeps on supporting you?
JML: It's great the support from Malcolm for sure. He was really good with that. Of course, he was very disappointed like everybody in the team - we have lost so many points from that rally. But that's it. When it's done, it's done and you can't get it back – you just need to see what you can do in the future.
Q. Do you feel stronger mentally than a couple of years ago?
JML: Yes, I do. I feel I can deal with this better. For sure it hits hard when you do a mistake, but I am stronger and we are getting ready for Argentina already.
Fonte: Autosport